What a wonderful trip to Kenya! It was so great to reconnect with these pastors whom I have known and ministered with for the last 16 years.
162 pastors came from around Mt Kenya for the conference. It was a powerful time of teaching and ministry, as well as a time to share openly about challenges and struggles.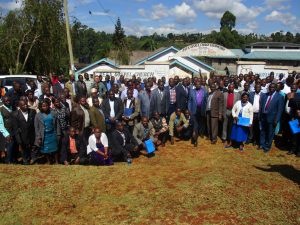 162 pastors attended the conference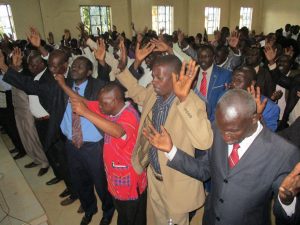 Powerful ministry and impartation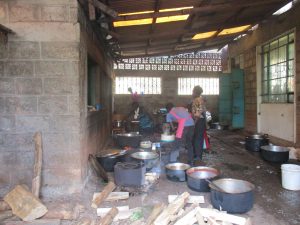 Conference meals were cooked over an open fire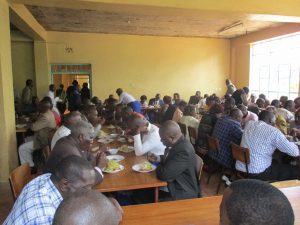 Lunch at the conference center
As always, I am so grateful for those who remember us in prayer. I think you will enjoy hearing these praise reports:
That message was for me
You really spoke to what I was going through
Thank you for sharing about your personal struggles and challenges
I was really touched when you taught about how to handle different crises
That was powerful revelation on the apostolic church
A number of pastors who were really discouraged felt a breakthrough. The Lord moved in healing as well. One pastor was healed of a "withered" hand!
I was blessed to get personal time with one of my spiritual sons, Pastor Joseph Karimi. I had the privilege of preaching in his church, Karatina Gospel Church. We have partnered with them for years and have had the joy of seeing them blossom and grow as a church. Since the last time I was there, they have added electricity and a really nice concrete floor in their worship center. The children's ministry continues to flourish and they are feeding up to a hundred kids a week!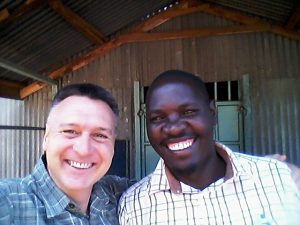 With one of my spiritual sons, Pastor Joseph Karimi\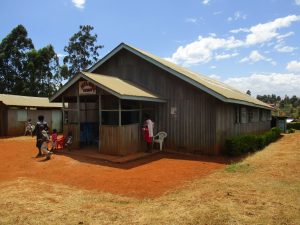 I also ministered for Pastor James Njoroge at Nyeri Gospel Church. Pastor James is the current overseer of the PEFA churches in Mt Kenya. It was an honor to connect with him and minister for him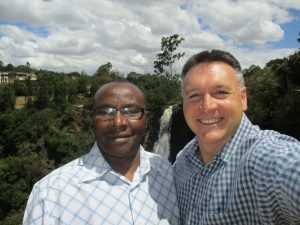 With Pastor James Njoroge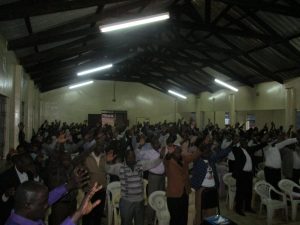 Pastors praying at the conference
I love Africa, and Kenya has a special place in my heart. It was great to be back with close friends, laughing, enjoying the food and culture, drinking coffee, sipping tea, and of course the best part, worshipping and ministering in the strong river of God's presence. It was wonderful!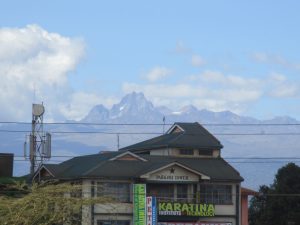 Town of Karatina with Mt Kenya in the background
Thank you for keeping me in prayer. Thank you for partnering with us. There is definitely fruit. I think of Colossians 1:6 "All over the world this gospel is bearing fruit and growing." My heart is warmed. Sixteen years ago I had the privilege of imparting to these pastors and introducing some of the things of the Spirit and revival. It moves me to tears when I see how the churches are growing and flourishing.
When I first started going to this region, no one had phones, few had electricity, even fewer had cars. Seeing the standard of living improve for my precious brothers and sisters really touches me. There are still a lot of needs, but the Lord is providing.
During the conference, a love offering was taken among the pastors for a church way up north in the desert. Forty people have been meeting under an acacia tree. These pastors were moved to give. They have such a heart for missions now! I can't even begin to tell you how that blesses me! And yes, we sowed into the project too!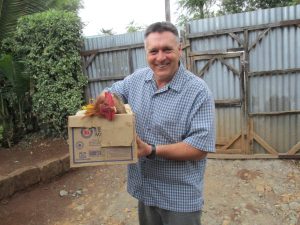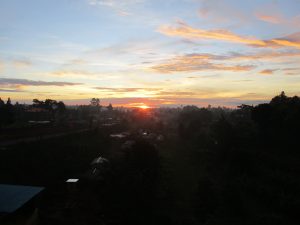 The sun sets at 6,128 feet
So from the depth of my heart, thank you for partnering with us financially and in prayer. It truly makes a difference!
Serving Him,
Pastor Eric
Video – Kenya Pastor's Conference (February 2017)